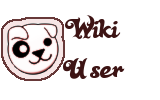 Recently been using running development releases of Lucid 526 and Spot.
I was happy to start the Puppy page on wikipedia, start the first IRC channel, create our first news wiki, now archived, podcast and promos and so on. Some of these projects are now mature and widely supported and used. Lately been creating
vids
using Openshot
ed.jason AT gmail.com
or PM on John Murgas forum

I am not really a coder but occasionally . . .
Growl Security front end
Pwget
Started programming for PuppyVOIP
Some code incorporated in Quickpet
CategoryUsers